Our Work
Lamination or extrusion coating

Fabric produced may require to be coated. HDPE woven sacks are laminated with LLDPE/LDPE while in case of polypropylene bags, lamination is done by lamination grade polypropylene.

Weaving

The process of weaving is automatic and continuous in nature. Numbers of circular looms are installed so as to match the effective output of the woven sack manufacturing plant.

Printing

Fully computerized printing machines are used to ensure that your sack is labeled with both accuracy and efficiency. After the printing, the sacks are then transferred to a different department for stitching.
One of the leading Polypropylene bag manufacturer and exporter in East Africa.
Certified by the Kenya Bureau of Standards (KBS)
In addition, our clients in many industries depend on our bags to strongly contain their products whenever and wherever needed.
All our products are rigorously tested and certified by the Kenya Buareau of Standards and carry the KEBS standardization mark.
We Love it when people get in touch with us
Shortly about us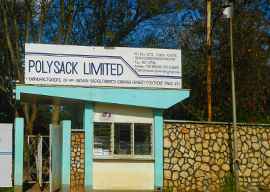 PolySack Limited is one of the leading polypropylene bag manufacturers in East Africa.
The company has a state of art manufacturing facility in Thika.
Some quick links